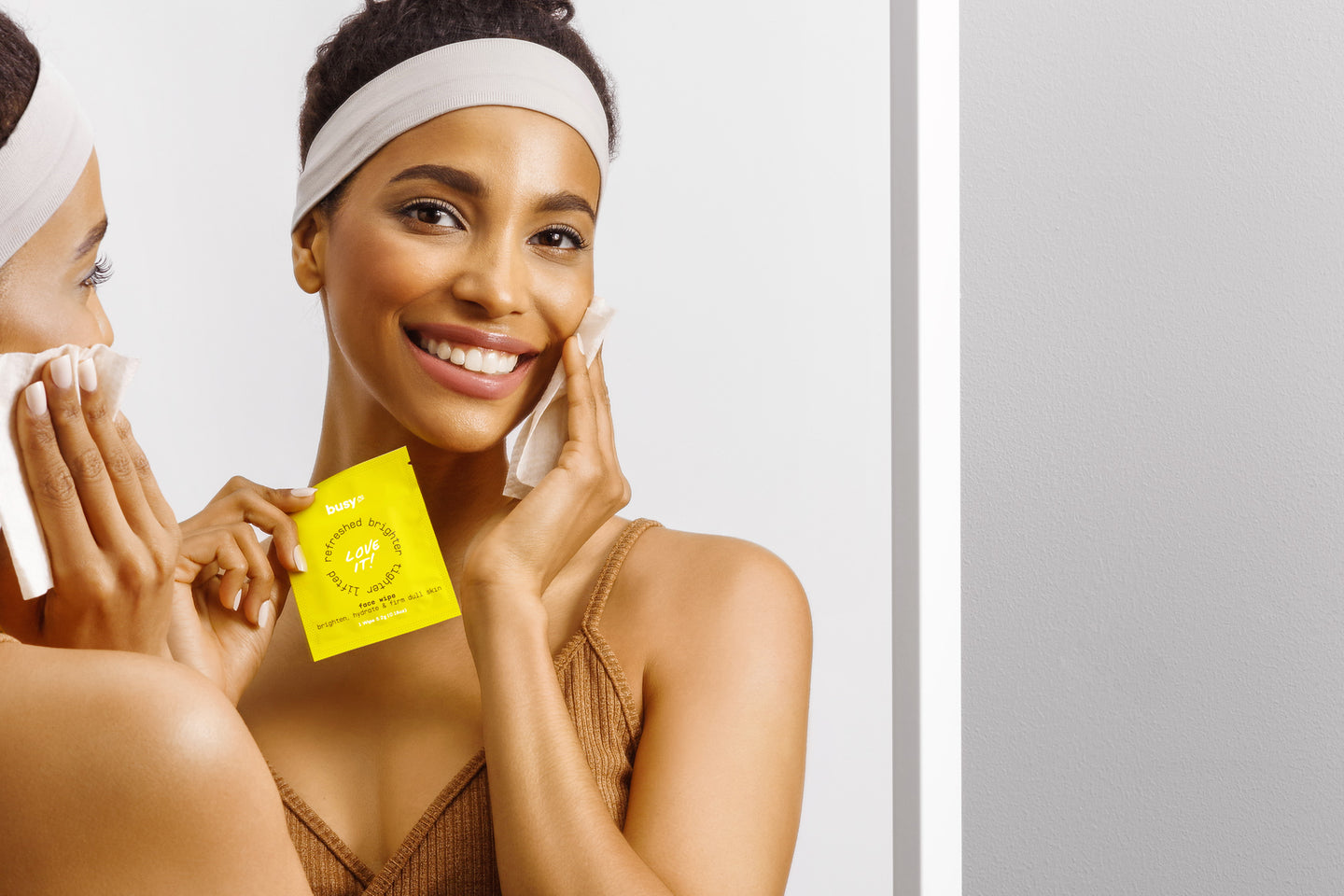 August 31, 2021
How This Beauty Brand is Changing the Industry
The beauty industry is changing. More people than ever before aren't willing to compromise on things like sustainability, quality, and convenience. But while some older brands are unwilling to adapt to the times, newcomers like Busy Co. are proving that you can create great products that help both people and the planet. Here's how Busy Co. is making waves with their skin-loving, environmentally-friendly products.
About Busy Co.
Unfair beauty expectations - like thinking you have to spend hours getting ready every day - cost way too much time and money. When Busy Co. founder Jamie was fed up with these expectations, she decided to try something different. But traditional beauty wipes weren't cutting it. They could give her hours of precious time back each week, but they were wasteful and super unhealthy for the environment. Still, she wanted to be able to look and feel her best without having to waste time. This is when she decided to make her own beauty wipes. Made from biodegradable materials and packed with good-for-you natural ingredients, these new wipes were made to love both skin and planet - with absolutely no compromises.  
So what's the hype with wipes? 
Most people don't have the time to devote to a 10-step skincare routine each and every day. Busy Co. beauty wipes make it easy to have high-quality skincare ingredients at your fingertips whenever you need it. And no need to settle for just one type of (mediocre) face wipe anymore. Busy Co. makes 5 different types of wipes, all for different parts of the body, including the face, hands, and body, with specific deodorant and feminine wipes too! No more sacrificing comfort for fresh, clean, healthy skin. 
Wipes are also a great way to transport powerhouse ingredients like vitamin C, hyaluronic acid, and retinol straight to the skin. Each one of Busy Co.'s wipes are loaded with skin-loving serums designed to brighten, tone, and refresh tired skin. And each wipe targets different skincare concerns, making it easy to find the right wipe for your unique skin needs. 
Concerned about dryness? Brightening Facial Serum Pads deliver brightening, hydrating ingredients to keep skin glowing. Find your hands always dry out when you use hand sanitizer? Age-Defying Hand Serum Pads cleanse and hydrate hands with moisturizing ingredients like collagen and peptides. 
But creating convenient beauty wipes with amazing ingredients was just the beginning. Keep reading to learn how Busy Co. is leading the way toward a better future of beauty.
How Busy Co. is changing the beauty industry
Today, it's not enough to simply have incredible products. Consumers want to shop for products that do good for people and the planet. The challenge for Busy Co. was to figure out how to create beauty wipes filled with high-quality, all-natural ingredients that wouldn't clog up landfills. The answer? Upcycling pre or post-consumer content like paper and old t-shirts to create 100% recycled packaging and wipes. 
And with wipes made from all-natural, plant-based fibers (and never bleached!), each wipe is 100% biodegradable. Paired with a commitment to compostable and biodegradable ingredients, Busy Co.'s sustainable, wind-powered manufacturing plant is setting a new example for what clean, sustainable beauty should look like. 
Whether you have 5-minutes or 5 hours, everyone deserves the right to look and feel their best. And at Busy Co., that means having the freedom to freshen up as you see fit. Whatever your priorities are, Busy Co. wants to make sure you have the skincare routine you need to pursue what matters most to you.